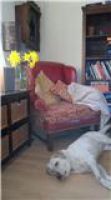 A fan (you know who you are) asked me why, in all my publicity photos, there is only a picture of my writing chair and why the bookshelf next to it is full of cookery books.  First – seriously?  You zoomed in to see the books?  I'm not sure how to take that.  Well, the answer to the first question is quite simple – mystique (imagine a wisp of smoke trailing past your eyes and some haunting music) and the need to keep my terrible secret from my mother.  The second – distraction.  Not to keep me distracted but to stop me being distracted.  I love reading and if the shelves were full of proper books (I detest cooking) I would never get any writing done.  However, the vase of daffs has been replaced by a pile of, uh, books.  Not many, only three.  One my son and I read together, another is my daughter's and the third…I'll have to have a look and get back to you.  I have piles in the bathroom, next to my bed, in the sitting room – actually there are shelves and shelves of books there, the children's playroom, and last, but not least, in my car.
In fact, here is my summer reading list.  Ready?
Faulks on Fiction by Seb Faulks; The Blasphemer by Nigel Farndale; Shadows of the Art (trilogy) by Adrian Tchaikovsky; Delirium by Lauren Oliver; The Dark and Hollow Places (superb title) by Carrie Ryan; The Road by Cormac McCarthy; My Sister Lives on the mantelpiece by Annabel Pitcher; The Midnight Charter (& Bk 2) by David Whitley; The Black Book of Secrets by F E Higgins; The Enemy & The Dead by Charlie Higson.
I'm salivating at the mere thought of the feast to come.  I shall sleep and read the next six weeks away.